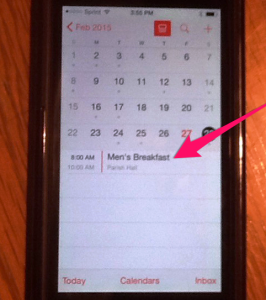 David Ruddell asked me whether he could share something about the upcoming Men's Breakfast, Saturday, February 28 at 8:00 am in the parish hall. Since we needed to remind everyone about the event, I said, "Why not?" This is what he sent.
For a number of years, New Covenant has been having a men's breakfast on the last Saturday of the month. There have been months when the response was good, but sadly, the response has not been consistent. Only a few dedicated men turn out each month. It is a given that Saturday mornings are busy as we all rush to get things done or play catch up before the start of another week. There are only two times we come together as men of the church: men's breakfast and the annual men's advance.
A few weeks ago, while having quiet time, sipping on a cup of coffee, and ruminating on life in general, I found myself thinking of the men's breakfast and what we as men are called to do within the church. We need to spend time together, praying, singing and getting to know one another. Heck, even a men's choir should not be out of the question. These events can't be rushed. There has to be a time where we share, pray, sing and listen for God to speak to us both as individuals and as a church.
You want to know what you can do to make a difference in both the church and the world? Come out and get to know one another. If you can't come out, pray for those of us who do. Please pray for God's guidance as we gather as a group of men after God's heart.
In the Great Litany, we recite:
That it may please thee to strengthen such as do stand; to comfort and help the weak-hearted; to raise up those who fall; and finally to beat down Satan under our feet,
We beseech thee to hear us.
David has a good point. We need to stand together to support one another, and we cannot support one another unless we know one another. Hope to see you on Saturday as we continue to discover where God is leading.