When you think about hospitality, what comes to mind? Perhaps a fine hotel, or going to see a wonderful friend, or perhaps family, or maybe going to a friend's house for dinner…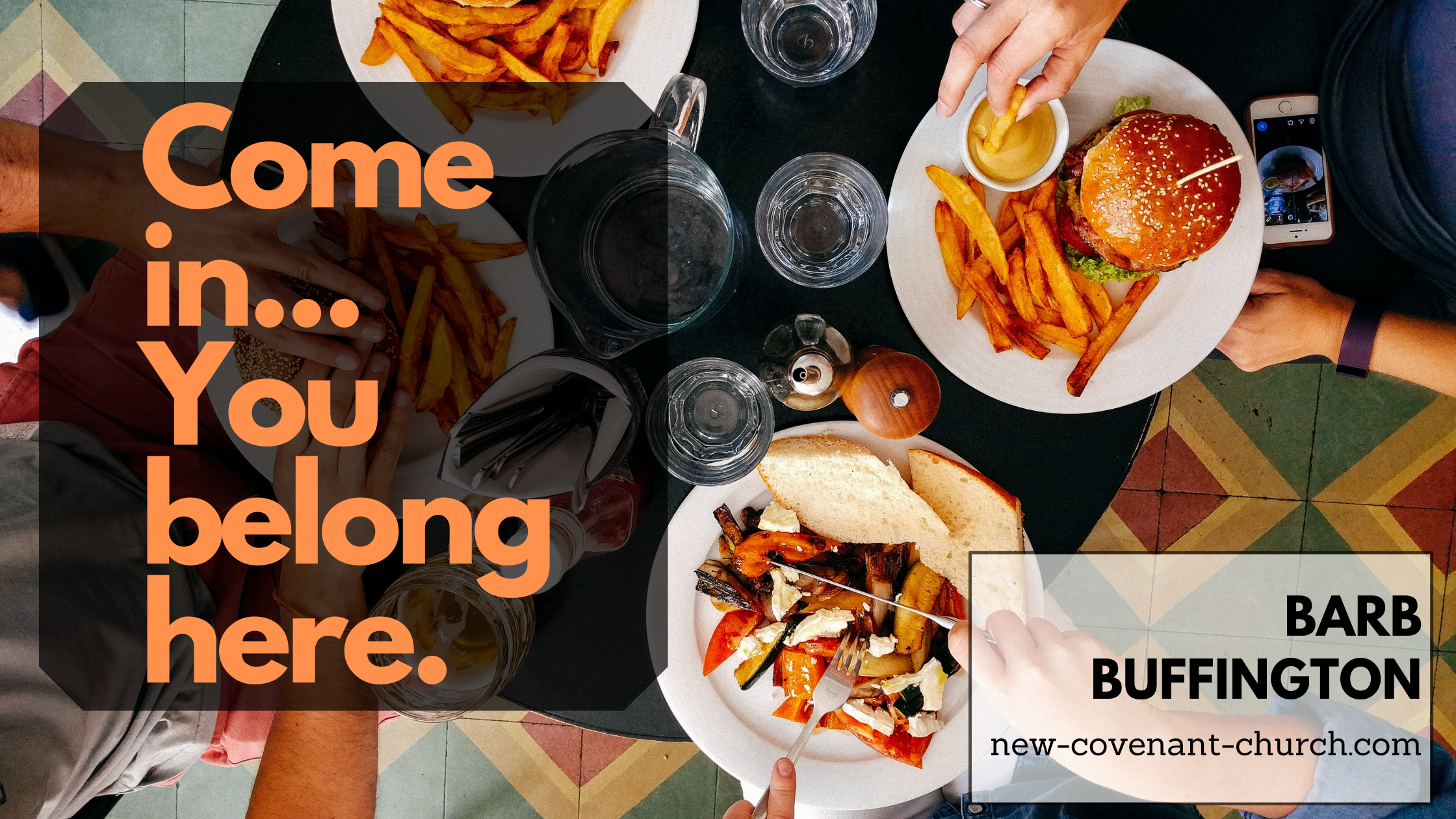 What Is Hospitality?
When I think about it, a word that comes to mind is belonging, and I want to share how I see these as intertwined, share a few stories, and hopefully spark something in you as we move forward from this COVID season.
This past year we have all experienced the loss of community, and we have realized the importance of connection and relationships. Where does this leave us as we move through 2021?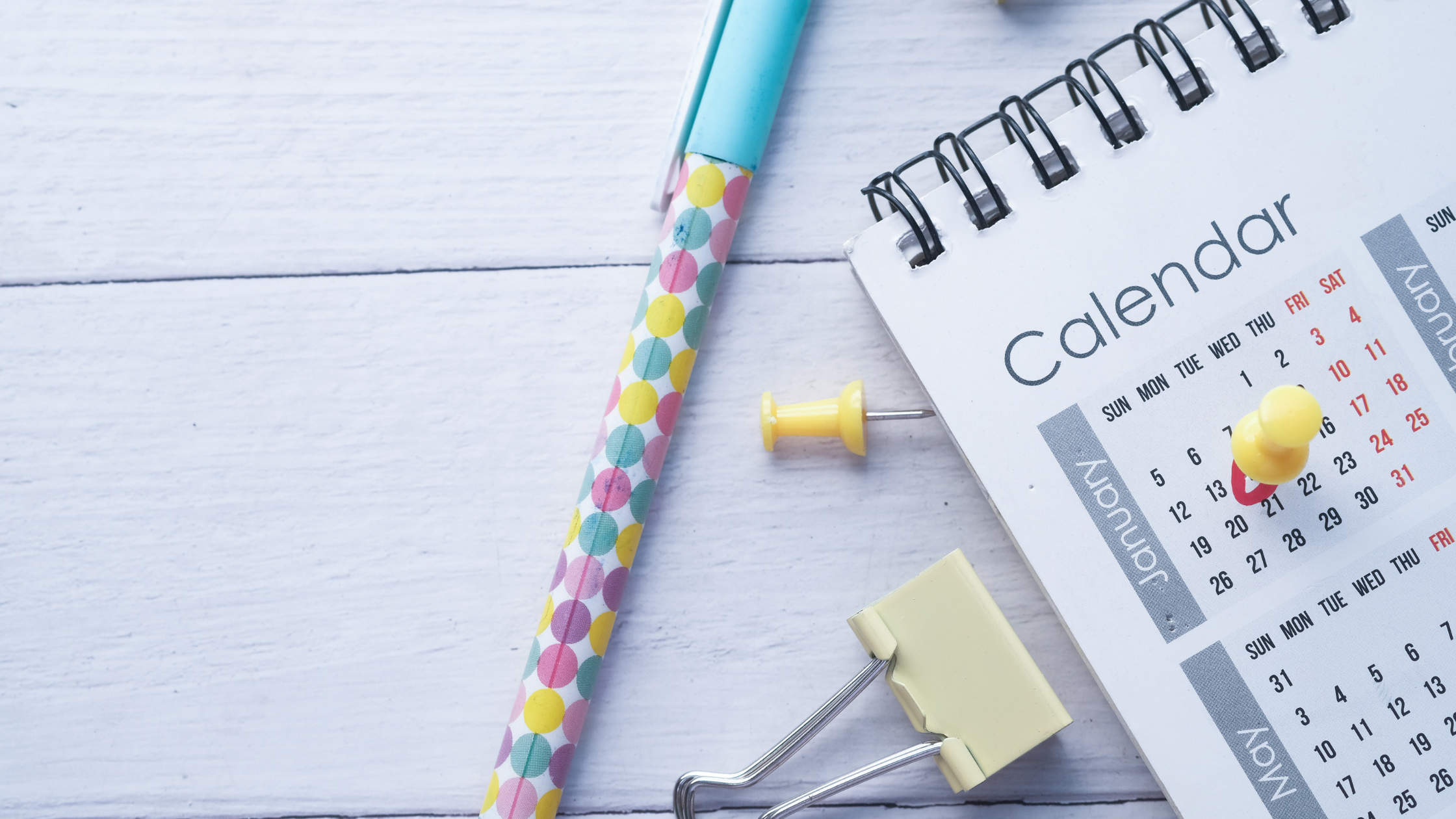 Hospitality is defined as the friendly and generous reception and entertainment of guests, visitors, or strangers. Did you read that? A GENEROUS reception! Meaning gladly and with a welcoming heart and attitude.
As an introvert, I have not always been so generous in my receiving guests but have almost always become glad as the hospitality unfolds.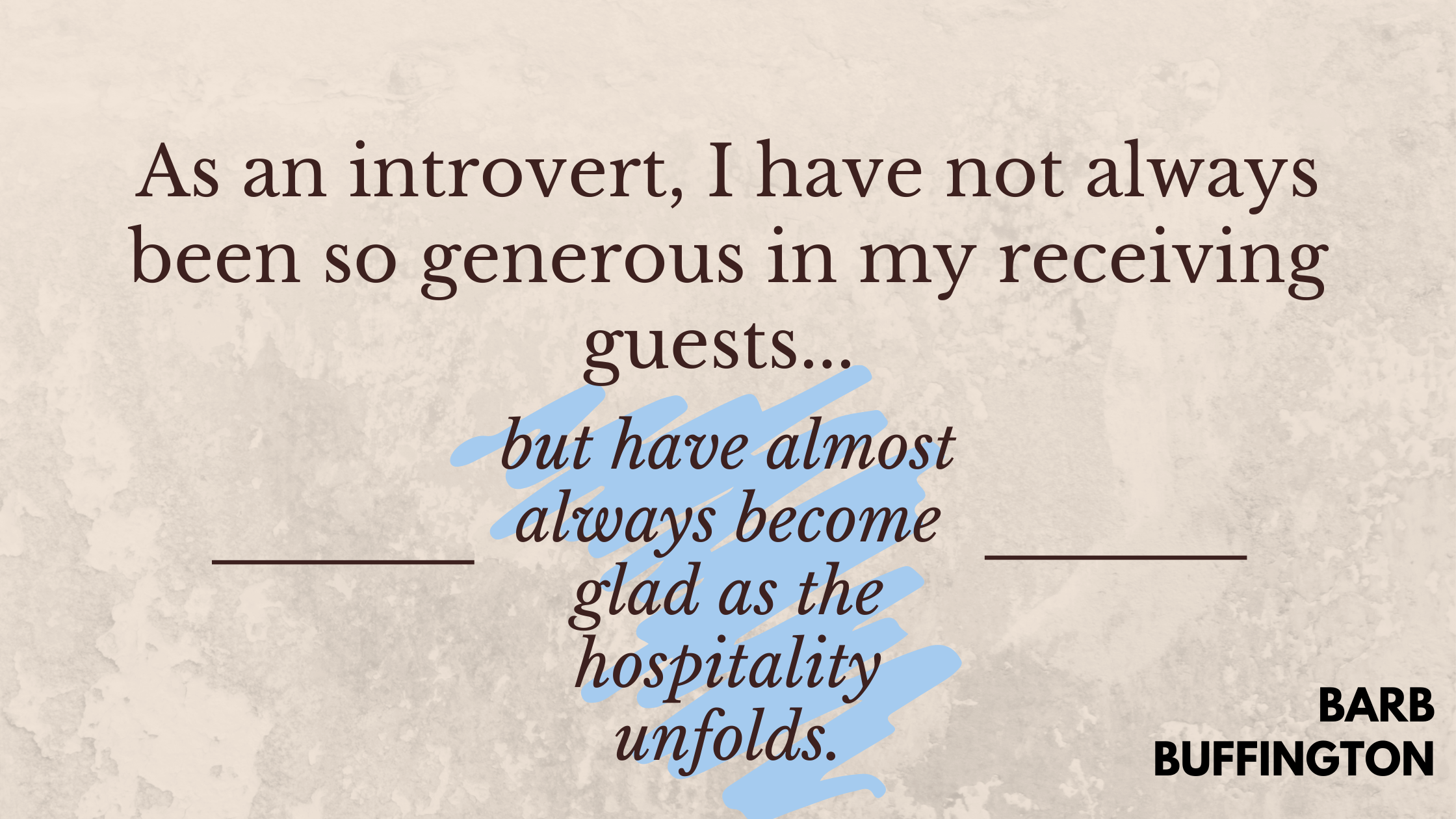 My husband always is eager and ready to bring anyone and everyone home for dinner, or to have them stay with us, and I am the one who sometimes puts on the brakes and wants to go more cautiously.
Even now, I am a work in progress, though I have come a long way!
As Essential as Food and Water
BELONGING is a sense of fitting in or feeling like you are an important member of a group…belonging describes a sense of truly fitting or meshing.
And, because we are human, it is fundamental to our well-being. Belonging is as essential as food and water!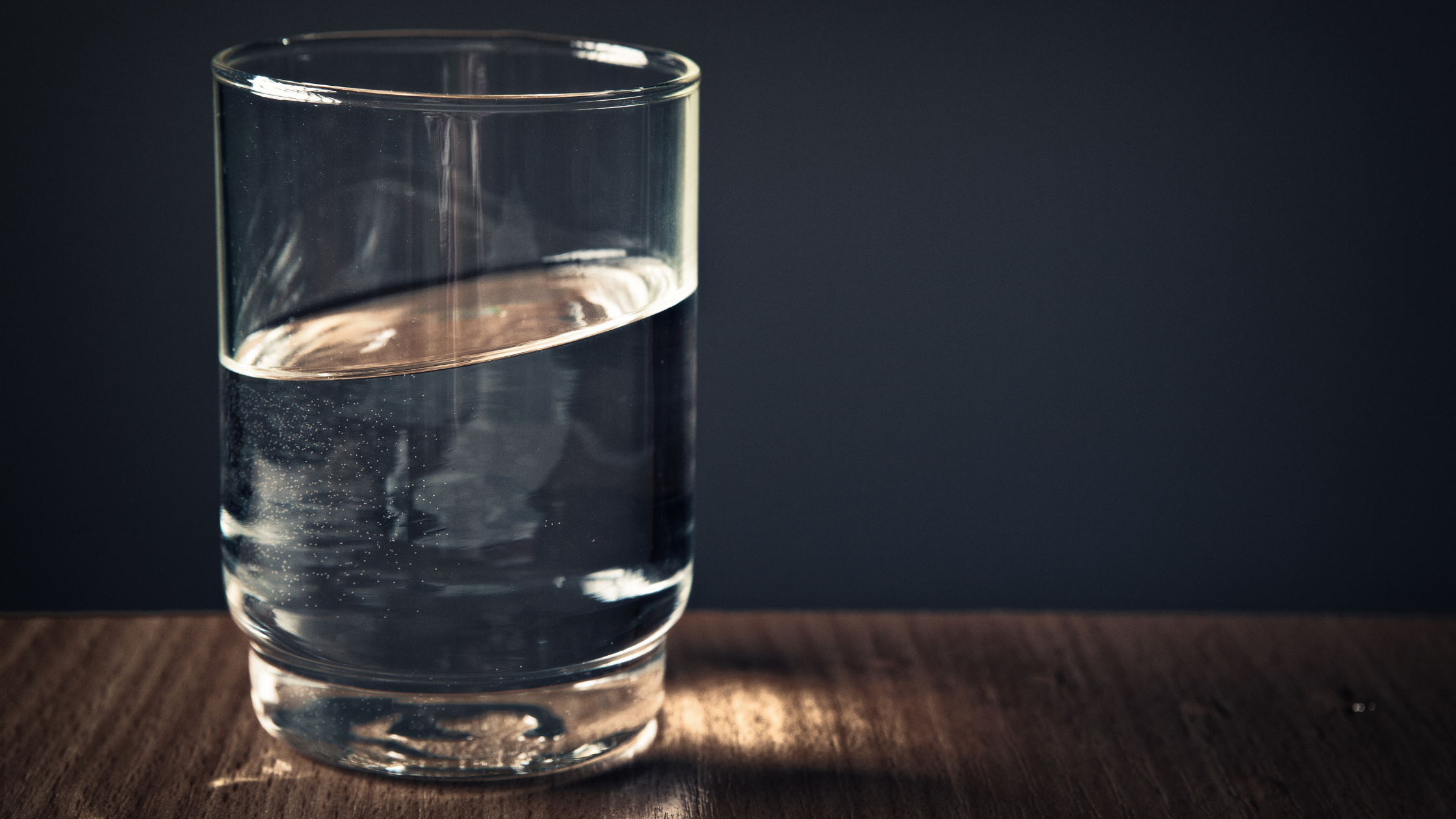 Don't you remember as a child wanting to be picked for a team or feeling hurt when you weren't invited to a friend's house when others were?
Even as adults, we still have that need to belong. Sometimes, though embarrassed to admit it, I still feel hurt when I am left out or not invited. Does that sound silly?
On the other hand, perhaps I have offended or hurt others when I have not included them in a gathering…forgive me!
Belonging: we ALL want and need it. Belonging eliminates "outsiderness" and engenders a sense of security and connectedness.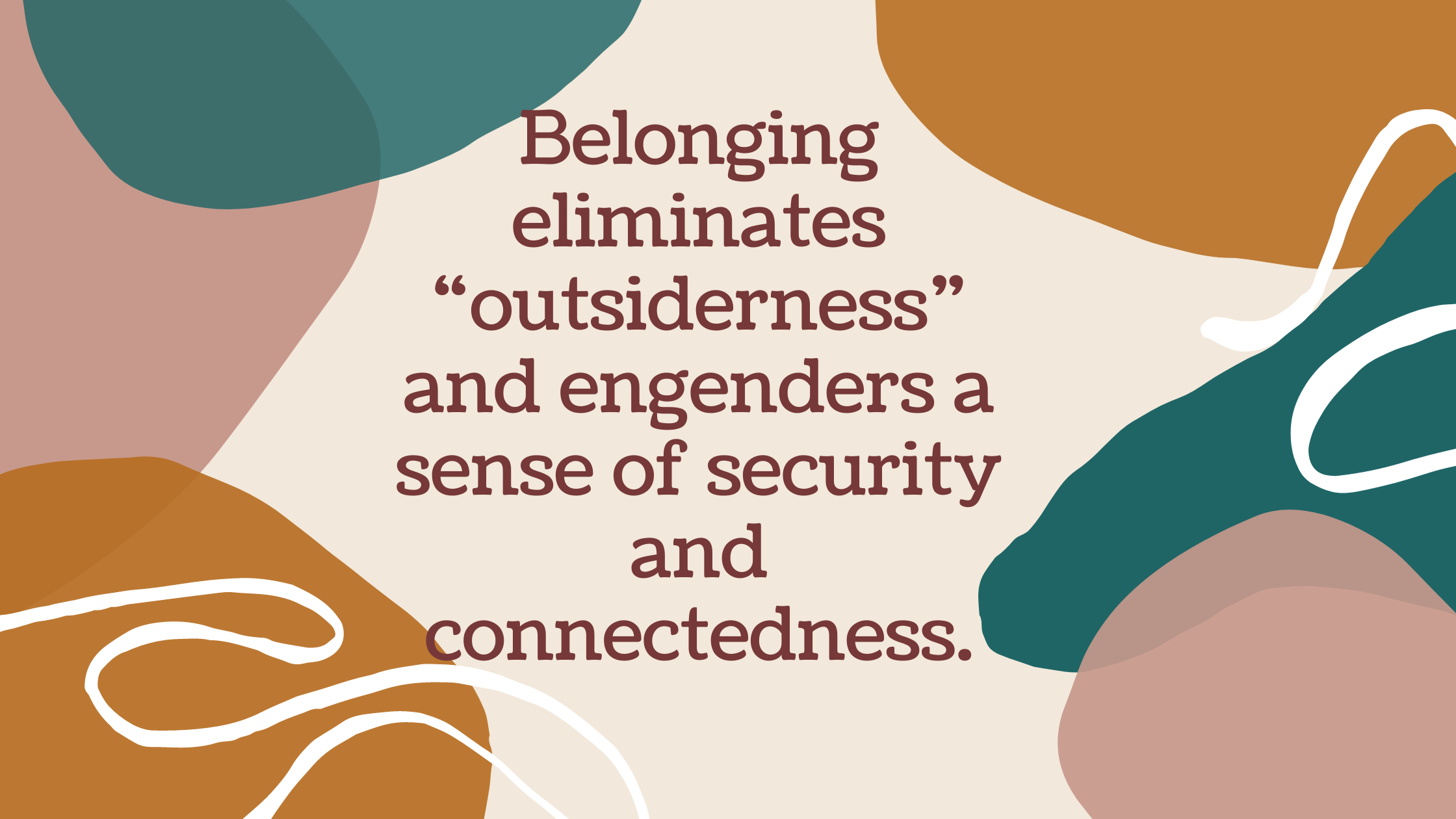 You KNOW how good it is to belong to something and feel accepted and know you matter. There is nothing like it!
When Hospitality and Belonging Intertwine
So how do these two come together? I see acts of hospitality as ways to build that sense of belonging; to share the love of Christ in tangible ways--walking out what Jesus calls us to, manifesting itself in various means.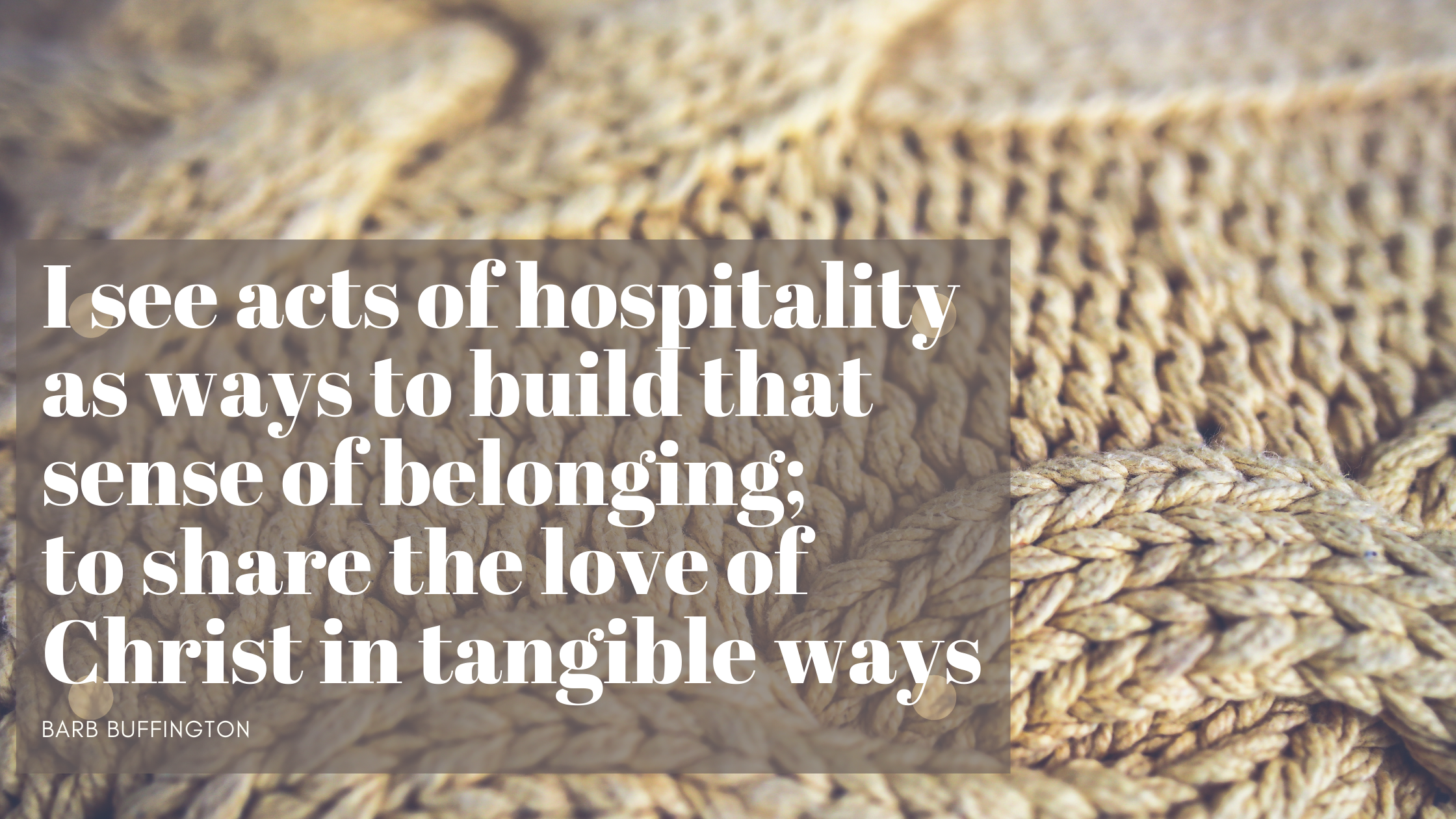 Let me share three stories that whisper the connection between hospitality and belonging. Listen for it.
Dason and the Vanishing Act
Being young and naïve as twentysomethings in the 70's in Indianapolis, where my husband worked at Christ Church Cathedral and I was a college student, we embarked on one of our first adventures in hospitality: to take in a homeless man, Dason V.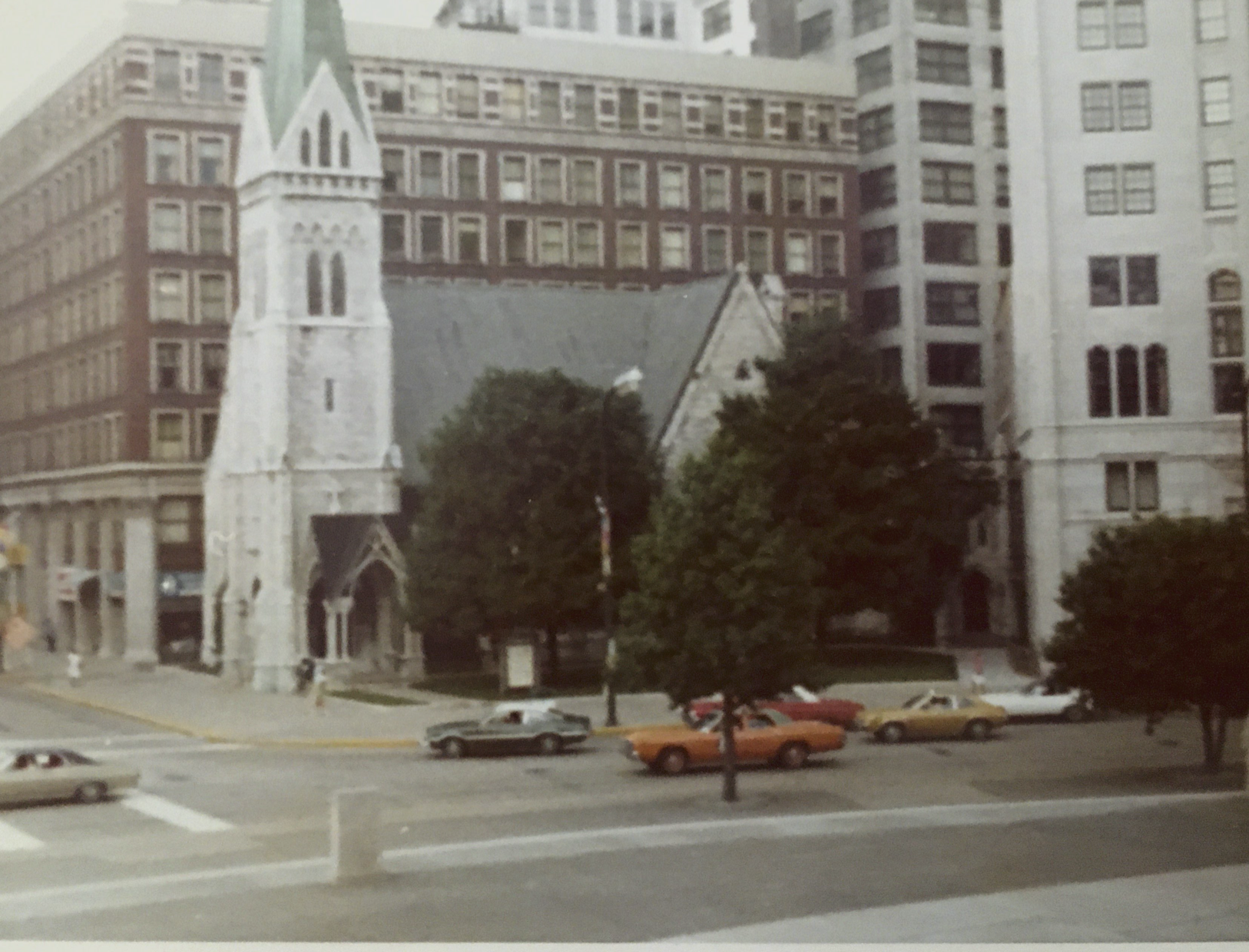 Dason was an older, tall, scraggly haired man with well-worn and torn clothes, many wrinkles all over, and with the look of having aged beyond his years--perhaps due to some hard living.
My husband brought him home from downtown one day, and we welcomed him – gave him clothes, our guest room, and my husband got him a job (an interesting one at that at an organ company).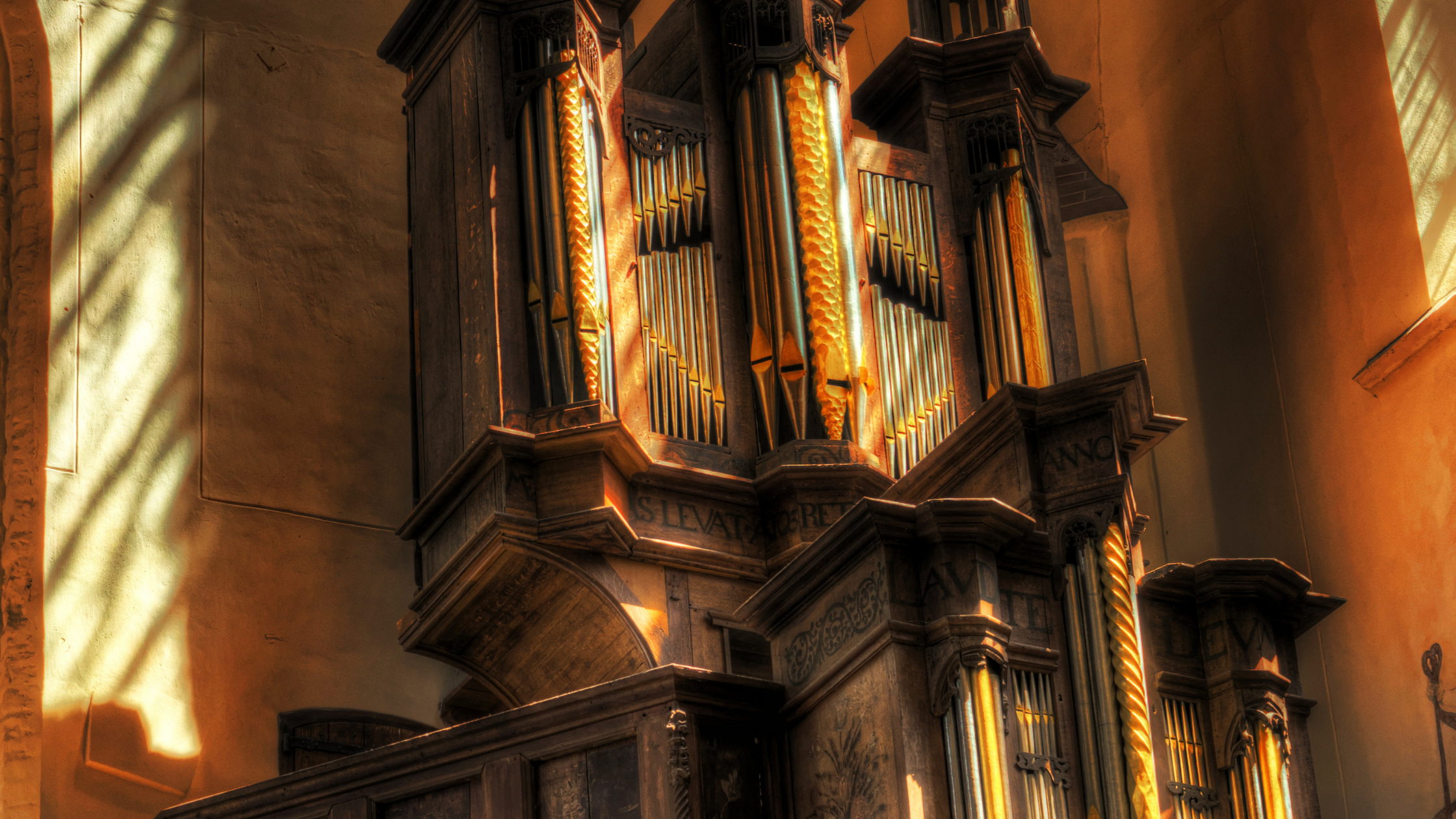 No, we didn't do credit checks or get references or even ask any questions…we just did it!
You may wonder, "What were you thinking? Were you out of your minds? AARGH!" Stupid, crazy? Well, perhaps!!! We have been known to do some ridiculous things over the years!
One night, my husband was at a meeting, and Dason and I went home. It turns out I had locked us out of the house.
Dason said, "No problem," and with that picked the lock in an instant.
His talk of Attica Prison and Auschwitz made me nervous, and after that my husband and I decided I shouldn't be left alone with him…though we continued to keep him with us. A few months later, he left for work one morning but never showed up…and it was payday!
Seriously, who does that? My husband and Dason's employer searched the hospitals and morgues and jails, but he simply vanished! Was he a serial killer, or a criminal on the run, or perhaps an angel? We will not know this side of heaven. I do believe it was a test of hospitality!
While he was with us, we gave Dason a sense of belonging--a family, a job and even some friends. Can you hear it? "Come in…you belong here."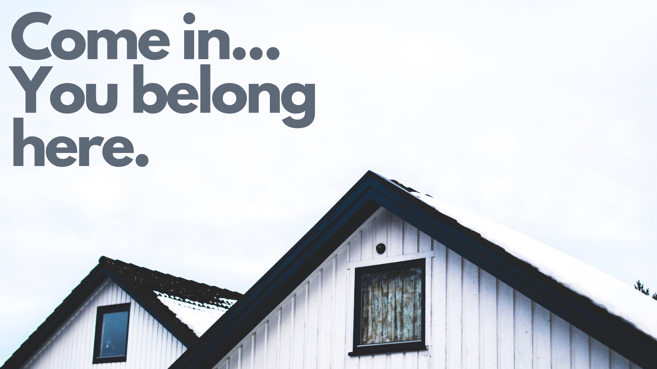 The Impromptu Christmas Party
Another story of hospitality and "belonging" was in Colorado, where both Carl and I worked for Episcopal Renewal Ministries.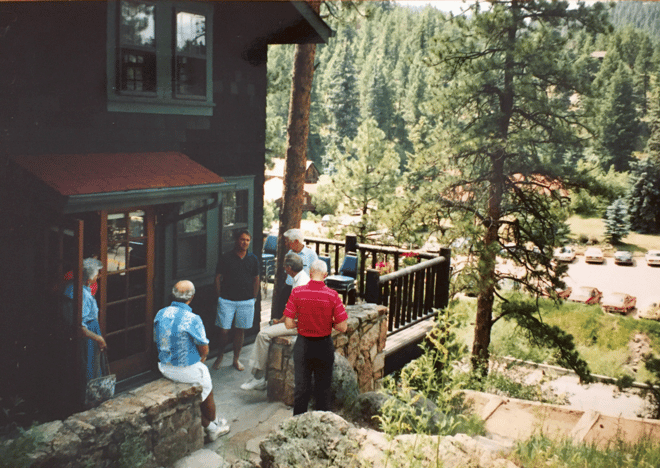 A number of families had relocated to Evergreen, Colorado from all parts of the country. One Christmas Eve, we were missing being with extended family for the holiday and realized everyone else might be feeling the same thing--so, we invited EVERYONE to Christmas dinner in our home—and every single person we invited came.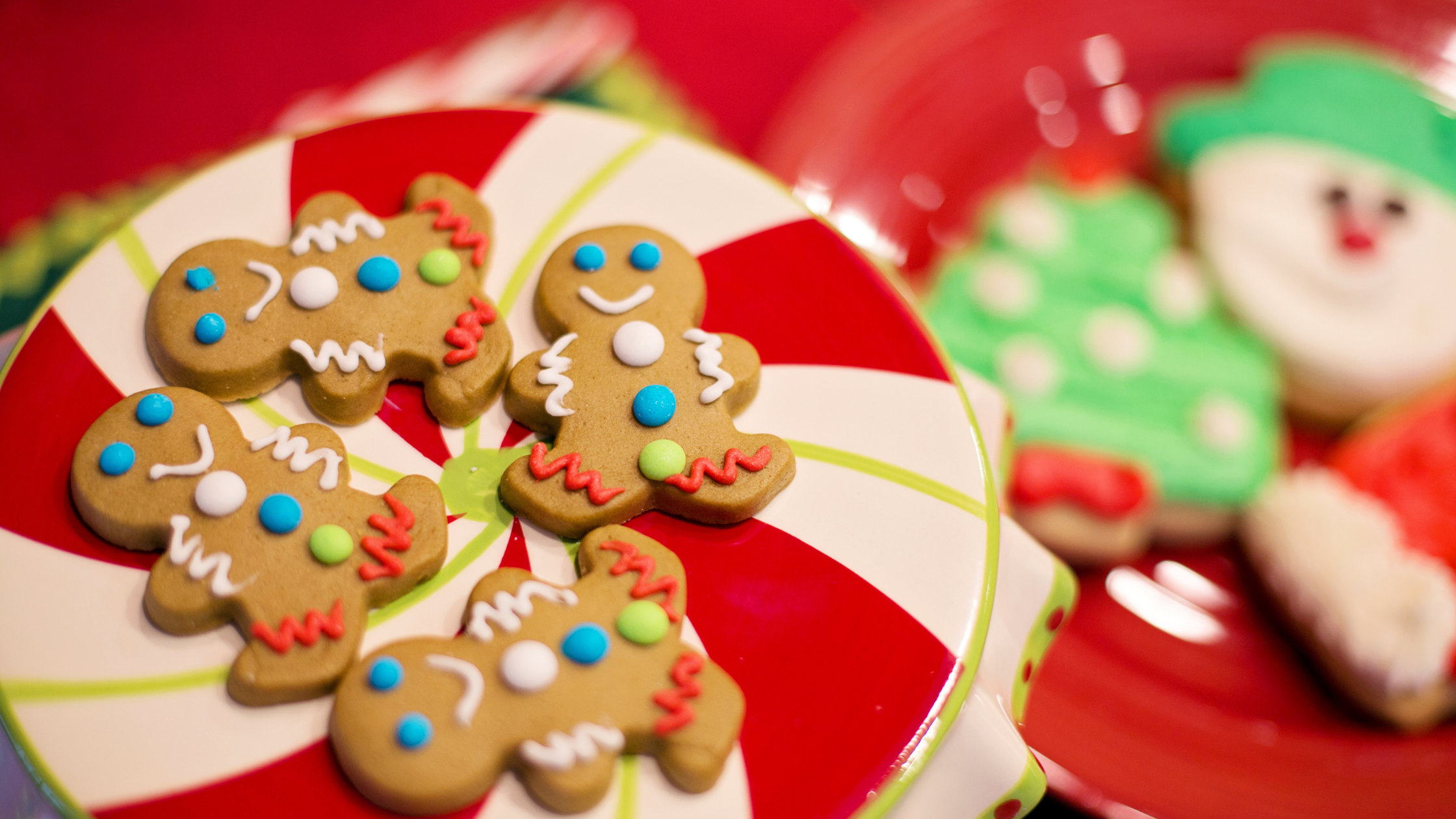 They were the young and old, the single and married, and those known to one another and those becoming acquainted. It was a great time of feasting and fellowship, singing and sharing!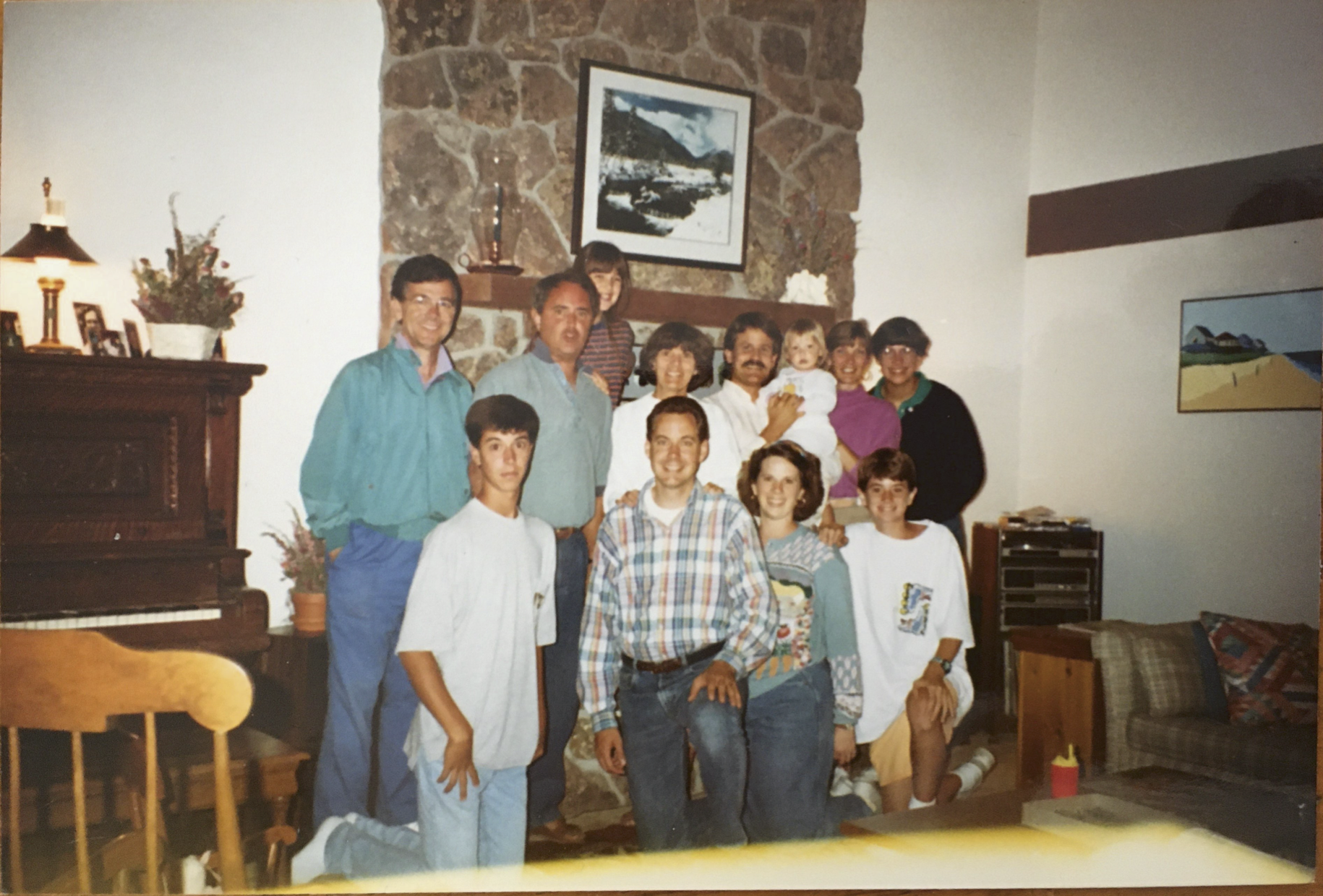 It was nothing fancy, but it was so good to be with one another! We did it spontaneously, and the sense of belonging we felt one with another is a memory that still makes my heart swell.
Do you hear it again? "Come in…you belong here."
We Thought We Were Empty Nesters…
Hospitality comes in different forms. Sometimes you extend it to a stranger like Dason, sometimes to friends or coworkers as in Colorado, and sometimes you can extend hospitality to your own family. Twice in Florida, we have invited family to move into our home with us.
Hospitality isn't always convenient or planned. After our son AJ was killed in 2004, we opened our home to our daughter-in-law and our grandson, Eli, who had been severely injured in the accident that took our son's life.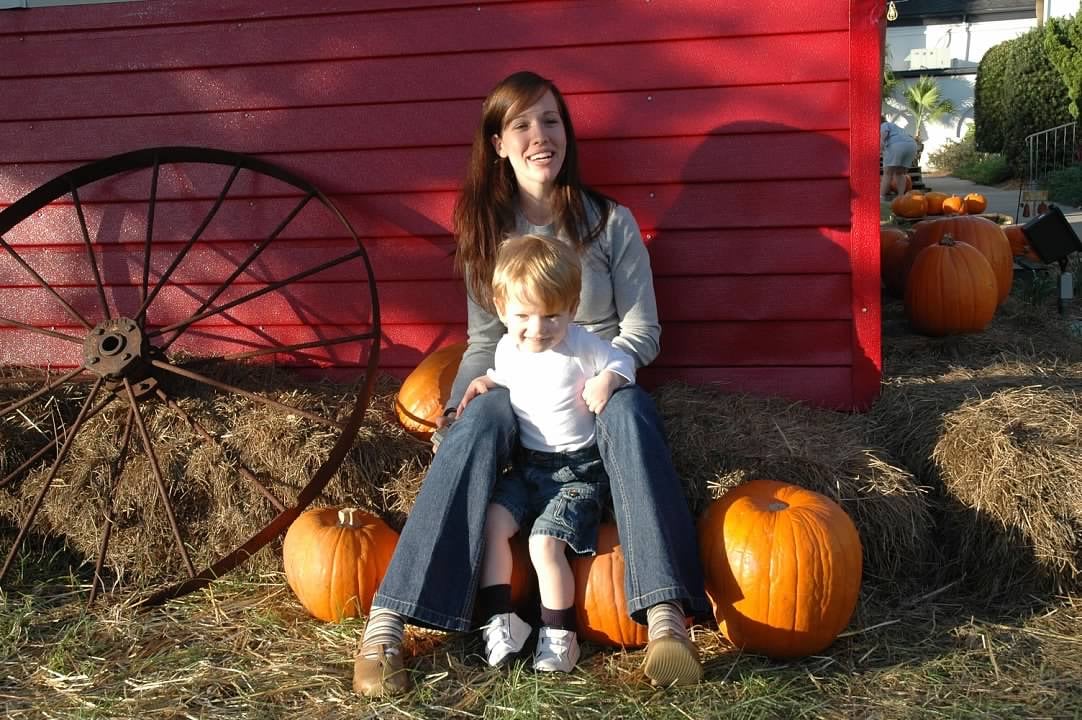 We were all a mess--we were grieving. Our daughter-in-law had become a widow at age 20, her infant son had tremendous needs, and we were grieving parents.
These were the hardest days of our lives.
And yet, we belonged to each other, the four of us… We shared our lives, and I wouldn't have had it any other way! Even today, I can't imagine us not being together for two years, during that most difficult time.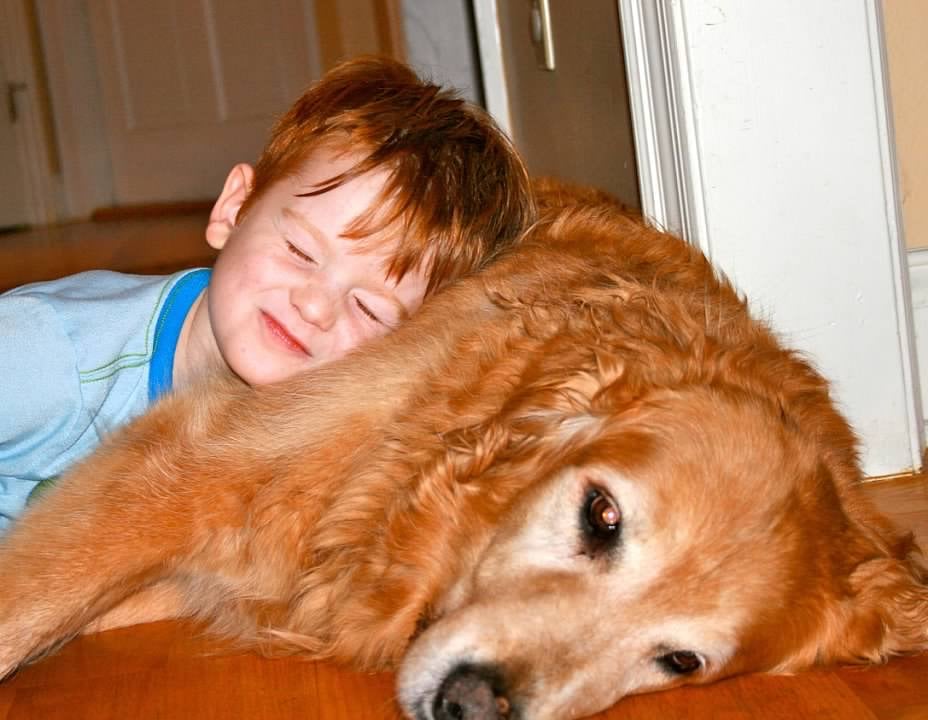 Shortly after they left our home, we invited our son Peter, his wife and their two toddlers to live with us as they made a huge transition in their lives.
The joy I experienced in those years was one of the greatest gifts of my life! I believe their presence helped me heal and bring back a joy that my soul desperately needed--my soul was restored.
The hospitality extended among us deepened our sense of belonging one to another and I grew in love in an unimaginable way. Not only were we extending hospitality to them, but they shared it with us, freely.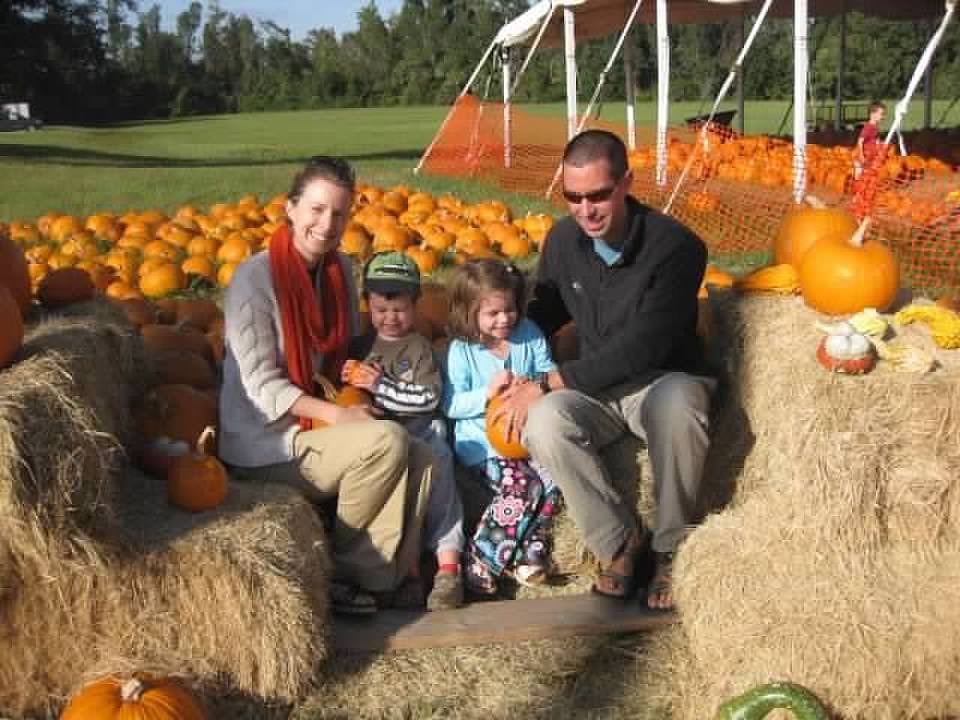 Never take the love of family for granted.
Say it to one another, with and without words: "Come in…you belong here."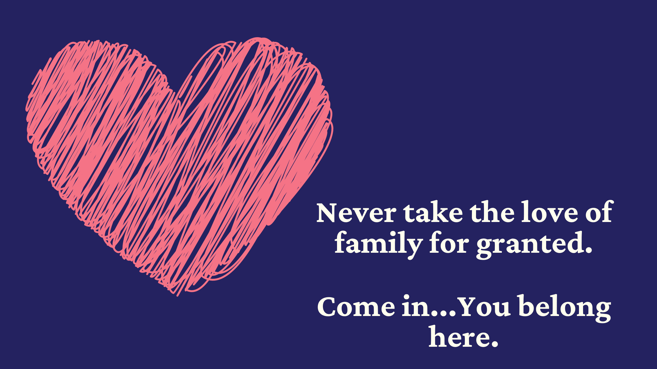 Moving Forward
What do I see in the year ahead? I am looking forward to welcoming friends into my home once again as we move forward out of the COVID season, for fellowship and feasting, singing and sharing…
One of our last meals with our small group in our home was a celebration of the lives of two dear friends who had passed, and it was an intimate time of breaking bread together.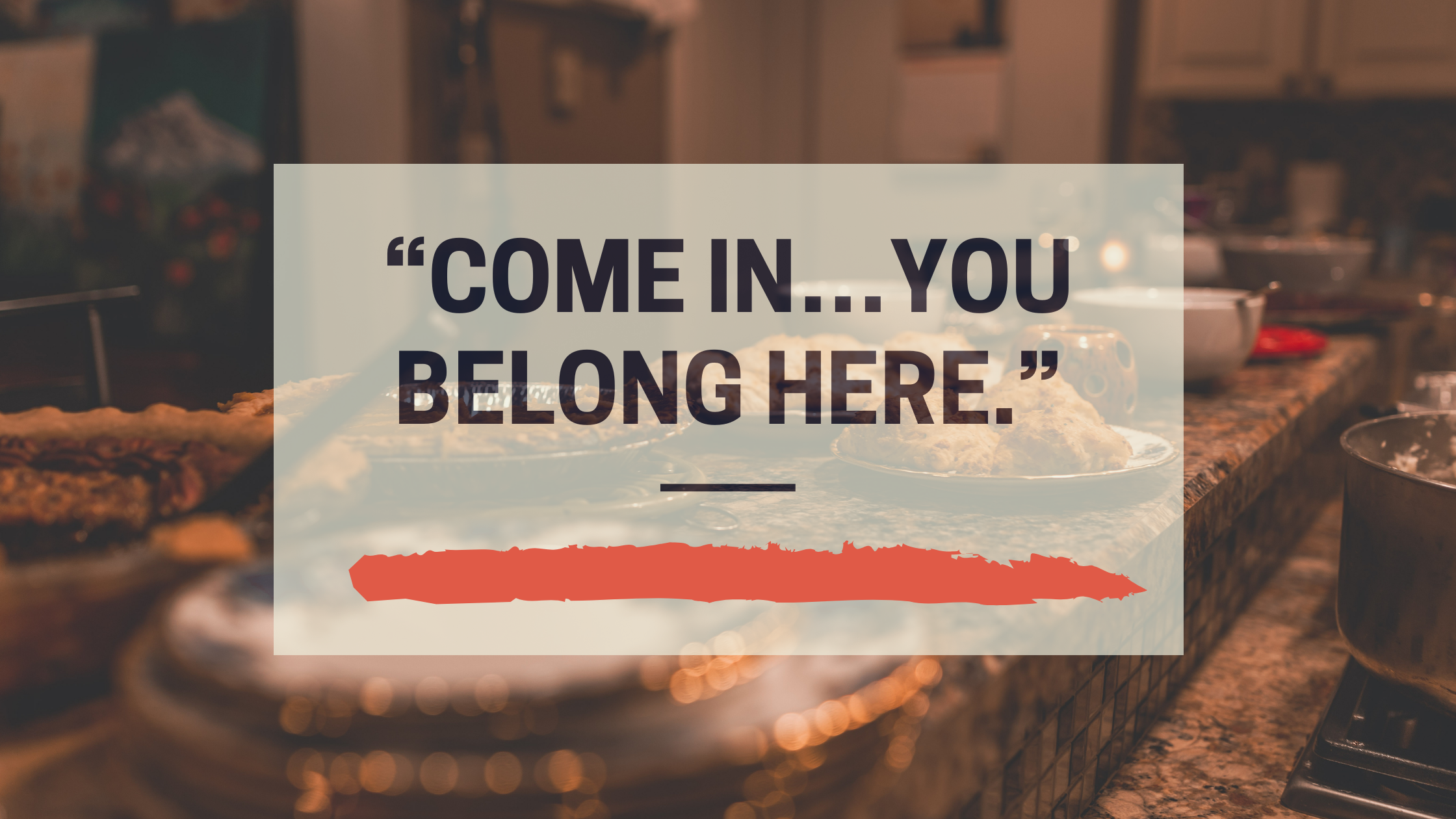 I think we all experienced that acceptance and belonging, and I can't wait to gather again and be able to say, "Come in…you belong here."
Extend the Invitation
With the pause from gathering during the pandemic, it has given me time to reflect and give thanks for the many opportunities over the years--to host guests from near and far, to entertain strangers now and then, to enjoy weekly family dinners (still on pause but soon to begin again), to enjoy small group fellowship in our home, and host parties of all sorts and sizes. What gifts! Grateful for all the times to be able to say "Come in...You belong here."
Whether strangers, friends, or family, you can make a huge difference by extending hospitality and the invitation to belong. When I look back through the years, it is times of being with others and sharing our lives that really matter.
Perhaps this year we will be able to say, "Come in…you belong here," and we will all be a little closer to each other and to God.
Until the Lord calls me home and I hear him say those words to me, I will pray we can remember to gladly and graciously extend that same love to each other and say, "Come in…you belong here."
Do you want to hear more from Barb? Listen to her reflections on love and motherhood.
Do you have any stories about hospitality and belonging (or perhaps just a question for Barb)? Share them below.