As we often express it, His sovereignty revolves around our need to be right or in control. Make no mistake about it, this distorted way of expressing God's rule can be described as a form of self-interest or selfishness. Want to see a historical example of it? Read the portions of the Gospel where the religious establishment of Jesus' day chose defend what they self-deludingly believed to be right rather than embrace the living Word of God.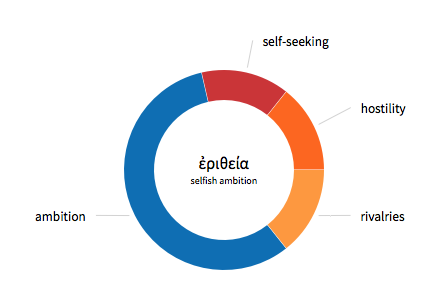 I once heard Dr. Steve Harper, then Vice President and Director of the Orlando Campus, preach from the Beatitudes on a Greek word not even found in the text, εριφεια (eritheia). He insisted that the root of all evil is arguably self-interest, selfishness, or self-ambition.
The word, from the works of Aristotle, is not found in the scriptures until the New Testament. In every occurrence, it is used to describe a behavior or attitude to avoid.
Romans 2:8
but for those who are self-seeking and do not obey the truth, but obey unrighteousness, there will be wrath and fury.
Philippians 2:3
Do nothing from selfish ambition or conceit, but in humility count others more significant than yourselves.
The word eritheia speaks of self-ambition, hints of political intrigue and decries hostility and strife. But Dr. Harper looked at it from the little things, the times it was easier, more convenient or simply safer to protect one's own self-interests. Doesn't the world tell us, "If you don't look out for yourself, no one else will?" How much of what we think is important for the Kingdom is generated by our own wants and desires as opposed to His request?