Scriptures for today.
Psalm 103 · Exodus 12.28-39 · 1 Corinthians 15.12-28 · Ps 111, 114 · Mark 16.9-20
Prayer for today.
Lord of all life and power, who through the mighty resurrection of your Son overcame the old order of sin and death to make all things new in him: grant that we, being dead to sin and alive to you in Jesus Christ, may reign with him in glory; to whom with you and the Holy Spirit be praise and honour, glory and might, now and in all eternity.
Question for today.
What might people see in your life that reflects the glory of a Risen Savior? What do you see in the life of other witnesses to the Resurrection in your circle of friends that bears the glow of glory? Consider sharing that with them.
This detail of the 1835 painting by the Russian artist Alexander Ivanov portrays the encounter between Mary Magdalene and the Risen Christ. Without seeing the full figure of Christ, what do you imagine that Mary sees to create an expression like this?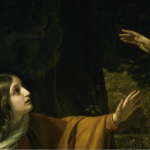 http://www.google.com/culturalinstitute/asset-viewer/christ-s-appearance-to-mary-magdalene-after-the-resurrection/pwE-qeOqtCvCTg?hl=en To see the full image, including Christ's face.