Growing up, I spent a fair amount of time trying to figure out God's will. In the church of my youth, this included big things, like timing the end of the world and wondering if or when Marci would decide to go out with me. Vocation,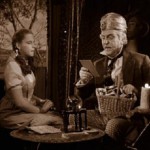 employment, friendship, challenges and even much smaller things, like which toy to ask for at Christmastime. God's will in my mind was like the evidence left behind at a crime scene, and I was tasked to become a spiritual CSI to deduce and confirm the tracks God had left behind in my life. With this knowledge, I assumed, I could declare Aha! and move forward in life confidently and assured that there would be no untimely surprises.
It was exhilarating except for all the times it was debilitating.
Discernment is a word I learned later that I tried to paint over what I was actually doing. I was a great devotee of the Professor Marvel school-of-reading. Like Dorothy, I would squinch my eyes in my best religious frame of mind, and then take some small piece of recent history and extrapolate it towards my own perception of my best interest.
Then, when I was weary of all the emotional sturm und drang, I just started copying what people around me were doing. God's will for me was whatever people who seemed to have it together were already doing.
It was comforting except for all the times it was ridiculous.
This week, the prophet Jeremiah's letter to the refugee community in Babylon gives us guidance forward. If you have ever wondered about God's will, this guidance can help.
This week is also our second week of In His Presence. You can watch the video for all 6 sessions online at www.new-covenant-church.com. Questions for sessions 1 and 2 are available. Just click on the red couch beside the video. It is not too late to find a group and connect with others who have Jesus in common with you. See you Sunday.
grace and certain hope,
Christopher+