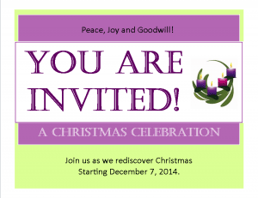 This won't surprise you. Automated customer service can be tedious.
"Press 1 for this. Press 2 for that. Our menu has changed." I have learned that if you purposefully mumble your responses or just sit quietly, you are transferred to a real person faster.
Most people don't prefer automated interactions. And the more important something is, the less helpful automated seems.
If you ask people how they came to the church where they worship now, the overwhelming majority will answer that they were invited there by someone.
Someone with a voice and an invitation. Someone who knows where to sit. Someone to answer a question or direct them to the donuts. Someone to give them a ride.
Christmas is a great opportunity to give someone an invitation. As we prepare for the celebration of Jesus' birth, we are telling the story most familiar to people who haven't been to church in a while. There are opportunities to hear the Christmas story, sing carols together, and share good food and fun with others.
We know it isn't always easy. They might say no (this year). They might say yes (this year)!
To help us all give this gift, we are designating Sunday December 7th to invite our friends to church. The Sunday service will include simple explanations of the liturgy, and will allow us to share the upcoming opportunities this Advent season.
To assist you, in your Christmas card, there are 2 postcards. One is a calendar of events for you to put on your fridge. The other is an invitation to give to a friend. We have more invitations for those of you with more than one friend. But we are asking everyone to invite at least one friend to church on this day.
You can also invite them to other events going on through December. Take Home a Tradition and Caroling in Oak Forest next weekend on November 30th, Lessons and Carols on December 7th, and Fezzywig's Christmas Party on December 14th. These events are all different ways to prepare to celebrate the joy of Christmas.
Pray and ask the Lord where your friend will best see Him, and then invite your friend to come along. And, if you are here at New Covenant because someone invited you, tell us who took the risk and asked you to come along. And tell them thanks.
God's message of salvation was not automated. He sent a person. He still does.
May God Bless You Richly,
Father Christopher +