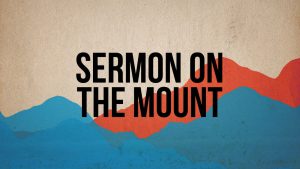 As we move through the season of Epiphany, we have opportunities to see Jesus reveal the glory of God to the people of Israel and the world, to ourselves and to others. This revelation of God's glory, and the fuller revelation of Jesus' identity occurs through testimony, signs, miracles and teaching. Jesus shows us who he is by what and how he speaks.
Matthew presents the instruction of Jesus in multiple blocks, most famously at the beginning of the Gospel in Chapters 5-7.
This Sermon on the Mount gives us Jesus' take on life in the kingdom of God, life in relationship with God the Father and life in relationship with others. Quite an undertaking for a single sermon. The church has been unpacking and applying this single sermon since it was first given.
Jesus begins his sermon with an affirmation of blessing, gathering an audience long taught they were excluded. He ends his sermon with a warning that those who have heard the words he brings are responsible to act on them if they hope for them to bear beneficial results in life and death.
And in the middle, Jesus tells the people that what he is saying isn't new, just that it has been forgotten. It isn't a replacement to the words as old as Sinai, but a repristination of those words so that they function in life as well as in memory. He is fulfilling the empty jars of covenant, long ago "honored" by religious leaders who took them out of the cabinets of daily life and placed them on a high and dry display shelf.
Jesus appeals to the common knowledge of the people. Not surprising, common knowledge resembles common sense. What ought to be known and counted on by everyone often seems elusive and rare. Comedian Jay Leno created laughs pointing out what others don't know in his on-the-street interviews, and annual reports from our schools make us worry about what students may not be learning. All of us smile or grimace when what we thought we knew has somehow drifted away.
This Sunday, we will see how Jesus appeals to what everyone knows as he shows us the invitation to live in relationship with God and one another. For all of us with friends, family and neighbors who don't yet follow Jesus, his invitation is personal and powerful.
PS- If you are interested in learning more about the Sermon on the Mount, Ken Khilander's small group is beginning a study led by Nicky Gumbel (of ALPHA fame) You can contact Ken for more information.
Grace and certain hope,
Christopher+