I stared out of my hotel window, some random raindrops hitting the glass. I was looking down on the seriously overcrowded streets of Port-au-Prince I had just left. From one perspective I could see some stately mountains and the Caribbean Sea, but my eyes kept returning to the flood of people walking. I was pretty sure they weren't wearing fitbits or counting their steps, this is the way they live their days, walking.
And so the existential shock I anticipated began to hit me. I was in a different world again. Bringing 75 young girl dresses for a medical missionary to distribute in hospitals and orphanages had been a fair warning that my heart would be vulnerable.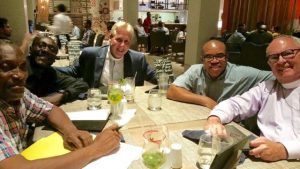 The lion's share of my time in Haiti would be spent with three amazing Haitian clergy who would fast become heroes for Canon Kevin Donlon and me. The light and joy that radiated from them, as they spoke about their ministry and the possibility of walking together with Anglican Mission, was stunning! God bless these godly servants of grace!
The first blow to my heart happened that morning at the boarding gate at Orlando International Airport. Glancing through my texts, I saw the note about Dell's passing. I was still in disbelief when Kevin's voice rang out, "Well, how is Bishop Buffington this morning?" I looked up, tried for a smile, and stammered, "Shocked, stunned. He was 100 years old but strangely he wasn't supposed to die."
Here's a clip from an August 10, 2004 letter Dell wrote to me:
"Dear, dear Carl,
You have been besieged with such oppressively serious stuff, recently, I would like to throw at you something on the lighter side-maybe even a chuckle or two. Please give serious consideration to my death and memorial service.
First of all I have no plans of dying soon nor, as far as I know, does God. In recent times, considering the way things have been going, I have from time to time thought I might avoid dying but I figure so many more things apparently must happen before Jesus returns, the odds are I won't last that long... now, when I do kickoff, regulation burial is not in the cards for me..."
God love you,
Dell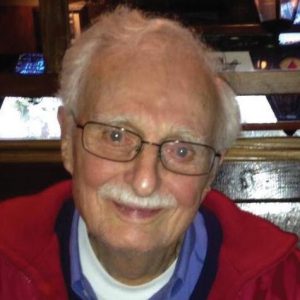 Dell was one of the founders of New Covenant and has written a history for us. In addition, he was a walker. I heard he began serious walking after he retired and tromped the Appalachian Trail more than once. When our family first arrived on the scene, he invited Peter, AJ, and me for a walk on the Florida Trail.
He was one who clearly walked with his Lord. He had a refreshingly joyful and quiet confidence about him. For a season, Thom Shaw and I would meet him for a breakfast at a diner on Fairbanks Avenue and we would leave filled, uplifted, and refreshed. I'm thankful for the few precious steps I got to share with Dell on this earth.
I still haven't heard the details of his last step here and first step into the fullness of the Kingdom, but somehow suspect it was not unlike Enoch's:
"Enoch walked with God; then he was no more, because God took him away." Gn 5.24
In Thanksgiving for the life of Dell Loyless,