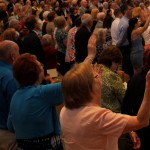 The last time Barb and I headed out of town on a weekend to simply be attenders, i.e. not having a scripted part in the ceremony, was on a day of two funerals. (I say scripted because attending, being there, is a critical part in all ceremonies.)
The first was Saturday morning and was for a dear friend, Fr. Colbert Norville, Vilma's husband, and Ruan's uncle. He was one of the first priests to befriend me when I came to New Covenant. It was a wonderful liturgy with thoughtful and eloquent sharing. Bishop Brewer and Colbert's family did a yeoman's job. Colbert would have approved I'm certain. They did him proud, as they say.
Following the dismissal, Barb and I raced to MCO to catch a plane to North Carolina to attend a very different memorial service for the daughter of a friend of Barb's – Kelly Osleger, 30 years old. It was to be in a barn, amidst bands and beer, so we had been told. Come casual. Unfortunately for us, no time for a change.
While waiting for our car rental we got a text from Kelly's mother, Becky, saying for some reason, I have since forgotten due to the shock of the moment probably, the minister they had booked for the service wasn't coming. Would I do it?
Checking my wits, well, I had the Book of Common Prayer app on my phone, and I had just shared about the musical Wickedwith someone – how the book and the musical's endings were not the same. The point being, the ending matters. A theme for homiletical thought, I thought, which was all I was sure they wanted. It went well. God is so gracious! And loves his children so dearly. Oddly, it wasn't about me, but his child, Kelly.
All that to say, we are heading to a wedding this weekend, as attenders we assume. Attenders matter. They make a difference. One of Barb's nieces, Cori Trice, is getting married at an outfitters canoe company outside with a 40 per cent chance of rain currently. Nothing like Noah's proposal on Dancing With The Stars, but could have some surprises. I will have my phone just in case.
Attending matters! At the very least, it illustrates loyalty and is the sacrament of presence. And, as I thought about all those I want to thank for making this past 2 weeks such a memorable time in my life, I didn't want to forget the attenders.
So, thank you to you all who were able to attend. As someone said, "I got my money's worth."
And, to all who made things happen, THANK YOU!
Like making the liturgies happen: thanks to acolyte s, ushers, altar guild, steamers of clergy vestments, and our clergy, priests and deacons – e.g. Christopher and Clint worked round the clock to produce bulletins by 8 a.m. Saturday morning. Not to forget our worship team. And the services didn't end Saturday. We had 2 more ordinations of priests Sunday morning, Ivan Sikha and Jovan Seaborn. And then to Tampa for two more ordinations of deacons, Ross Lindsay and Walter Volmuth. Go, go, go, – drivers of van, getters of box lunches, makers of splendid coffee hour reception… Thank you!
Like making the invitations and the reception happen, etc.etc. – Cathy Pierce and her team held regular meetings to make sure we did things right, and simply did things –there was childcare, decorations, flowers, the lists were endless. It seemed more complex than the weddings I've been part of. So many pieces to this puzzle. Thank you!
Like those who have supported this event financially. As Bishop Chuck Murphy likes to say, "Money is muscle that moves ministry." To those who contributed to the Abraham Tree and so reduced the expense of the vestments and other accouterments for this event. Another someone covered the cost of the whole reception. Someone else covered the costs of special guests put up at Homewood suites. On it goes. Amazing. Thank you!
And we had so many folks attend from far and wide. For example, Bishop Silas from Canada, the Amendolias from South Carolina, our family doctor and his wife from Indiana, four families from our neighborhood, and so many special guests like Archbishop Yong and his wife, Julia, from Singapore. I could go on and on but that's why we have a guest book.
Your efforts extended the impact of the consecrations well beyond the event. Even outside organizations contributed to the success of our partners' visits. For example, Tom Raleigh coordinated with Wycliffe and CRU (Campus Crusade) for an informative visit for our guests. Sheryl coordinated with Echo Farms, an international organization based in Forth Myers who trains and supports farmers throughout the world. She also set up meetings with John Drake who is spearheading a program to build windmill generated water pumps. The Bishops went home with more knowledge, more contacts and more hope.
To you all, mentioned and not, THANK YOU, THANK YOU, THANK YOU.
Carl & Barb
PS Don't miss Sunday! Attend. Glenn is sharing and it's a first chance for you to be there for Jana and him and thank him for his ministry among us before he leaves for seminary.