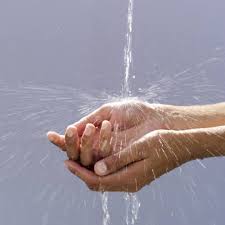 Circumstances change from time to time. In fact, our situation and circumstances seem to change all the time. Some changes are big, some more modest. Your toothpaste, your address, your insurance company, your hairstyle, your last name, your favorite tv show, your surprising job assignment, your child's least favorite school subject, your newest passion, your latest disappointment. The list goes on and on because life goes on and on.
One writer pithily said that the only two constants in this life were Jesus and change. Changing circumstances move us to make choices, and our responses are significant.
Moses frames the innumerable options waiting for the people of God on the other side (inside) of the Promised Land in terms of keeping faith with what has gone before. Don't let the novelty of change cause you to lose your grip on what is essential.
Jesus frames his encounter with religious leaders who tsk' tsk' people for not washing their hands before eating in terms of traditions' limited value.
It could be tempting to think that Jesus and Moses disagree here.
But Moses knows what Jesus knows.
A well-known recipe for madness is "doing the same thing again and again while hoping for different results." Sounds axiomatic until we realize that a change in circumstances could make previously unhelpful actions appear brilliantly insightful, while maintaining well-known patterns of strategy and execution in the face of new circumstances can put a solid business out of business.
Churches committed to the powerful, undiminished Truth revealed in scripture and that value the wisdom and insight of those who have gone before us have a lot to hear in this Sunday's lessons. All of us who have committed to leave a legacy of fidelity and clarity in the faith to those who follow after us have much to hear from Moses, James and our Lord. For each of us who hope to chart a consistent path through the inconsistencies of life and ourselves should take heart that the Bible recognizes how that feels, and that God speaks to us where we are.
Please join us this Sunday as we celebrate the Sacrament of Baptism with Titus Hutchings and his family. If you have questions about beginning a relationship with God through Jesus Christ, please ask. If you are interested in being baptized or would like your children to receive the sacrament of baptism, please ask Bishop Carl, Fr. Clint, Fr. Dave, Fr. Gabriel, Dcn. Ruan, Dcn. Tyrone, Dcn. Barbara or myself. There are plenty of us who would love to speak with you and your family.
See you Sunday,
Christopher+