I've got a bone to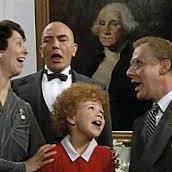 pick with you, Annie.
Of course I love Annie. Who wouldn't love her frizzy-red hair, shining eyes, and her sunny optimism in the face of her life's cruel disappointments? Even a hardened millionaire and the President of the United States joined her for the moving anthem, "The Sun Will Come Out Tomorrow." There was not a dry eye in the Oval Office.
There is one problem, Annie: you're fictional. And your advice doesn't always hold.
I think we feel a duty to smile, a responsibility to look cheerful and fine all time, even if we don't feel that way. You're never fully dressed without a smile. Don't let them see your smile slip. "Fake it 'till you make it,"--we've all heard that before.
Is that how we should come to the Lord? Fully dressed from ear-to-ear? What if things are so bad we actually can't do that? What should we do then? Stay away until it passes?
Have you ever skipped church because you couldn't face all the smiling Annies? Don't miss this Sunday. Turn to God just where you are. He doesn't want your pasted-on smile or your carefully-crafted mask. Come as you are. The psalmists sure did.
He just may have a miracle waiting for you.
Sara Buffington