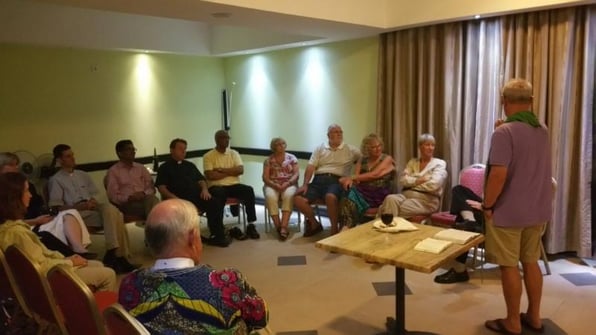 Fourteen from the US and Rwanda gathered in Kigali and then half went to Kibundo, Tanzania and half went to Gisenyi. Several bishops with leaders from their dioceses were coming together in both places for a week of teaching, worship and prayer, and sharing about ministry.
Gisenyi is a beautiful place on Lake Kivo and borders Goma in the Congo. It's about 4,000 feet above sea level so the days were in the mid 70s and nights in the 60s. We had some free time on Sunday to walk along the lake. July 4th, the day we traveled back to Kigali, was Rwanda's freedom from Belgian celebration as well as our own.
As you know, Bishop William had been hospitalized with malaria and we didn't know if would be able to join us. When I was checking into the hotel in Gisenyi I felt a tap on my shoulder and turned and saw +William. A huge hug and a thank you Lord! He said, "I told them I had prayer and would be well and so I left the hospital and came here."
Here is what a typical day looked like. They were long and wonderful!
| | | |
| --- | --- | --- |
| 6 am to 7 am | Prep Time | I would review the 30 plus pages of notes I had brought with me and ask the Holy Spirit to use what He wanted and when. In addition to teaching on prayer the second day I was asked to lead prayer exercises where we would pray in small groups daily. |
| 7 am to 8 am | Breakfast and Discussion of the Day's Plans. | Breakfast for us was usually beans, vegetables, potatoes, rice, fruit, eggs, breads, coffee, and African tea. |
| 8:30 am to 11 am | Meeting together in a large hall at the retreat center. | This time was filled with singing (the Congolese naturally sing in 5 part harmony, incredible!),Bible Studies, led by one of the bishops, prayer in groups of three, and a major teaching on one of the themes they had requested followed by small group discussion and reporting back. |
| 11 am to 11:30 am | Tea and Snack | One time Canon Christopher was just about to take a bite of his snack when he saw a tail sticking out and swiftly moved it to his pocket. It was not usually so exotic, bread and or fried bread. |
| 11:30 am to 1 pm | Meeting | |
| 1 pm to 3 pm | Lunch | The team and bishops ate separately, as there wasn't room for us at the conference center, to talk about how things were going and make any adjustments that were indicated. |
| 3 pm to 4 pm | Meeting | |
| 4 pm to 4:30 pm | Afternoon Tea | |
| 4:30 pm to 6 pm | Meeting | |
| 7 pm to 9 pm | Dinner | At the hotel, it usually took about an hour and half to 2 hours from the time we would ordered our food 'till it was served, which gave us time together to talk and plan. |
| 9 pm to ??? | Planning and Preparation for the next day. | I often had meetings with the bishops, ++Kolini, and Canon Donlon. |
I wish I could find a way to say thank you big enough for allowing us to do this ministry! What I believe happens to me in these events is a very intense inner formation that is pretty much indiscernible and indescribable. For example, on the ride back watching how these people live, pushing bikes up steep hills loaded with umpteen kilos of whatever, I asked Kevin, snuggled on my right, "Do you ever ask God why I was born where I was and not someplace like here?" His immediate response, "All the time."
What happens in these times is what happens on Sunday mornings here at New Covenant when the body of Christ gathers to worship, pray, learn and grow. God touches and changes us into the image of His Son!
And when that happens in such a different setting, well perhaps it just stands out more and makes me realize what I can so easily take for granted.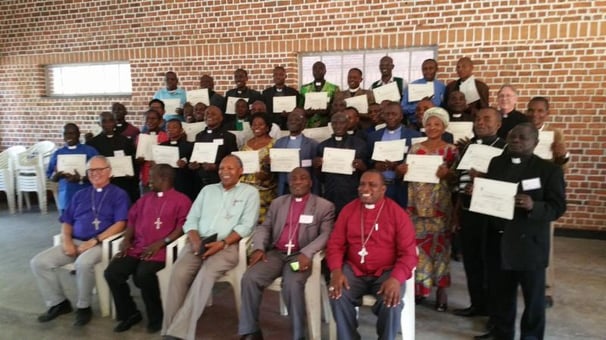 THANK YOU & BLESSINGS,
+Carl