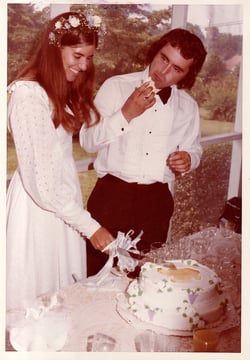 A long, long time ago, in a land far, far away... It was a really hot July day. On the 7th of '73 at 2 o'clock in the afternoon Barbara and I got married. I swear the thermometer was pushing the triple digit line. And inside the sanctuary (sans air conditioning), it seemed even hotter. Not a hint of breeze made it through the open windows.
And even with that, it was/is the best day of my life!
The ceremony went mostly well. When you follow the Prayer Book there are not a lot of variables. One of the places where there is play, as you know, is the sermon. And our preacher chose The Doors 60's hit, "Come On Baby Light My Fire," as the text for his homily. The best thing I recall about it was that it was brief.
Another blip in the day came when right after the service was over our minister friend and preacher told us he was leaving his wife and three children and would not be attending the backyard reception at Barb's parents' home. Someone else had lit his fire, I figured.
While Barbara has always lit my fire, I believe God did something that day, which transcends all of the human good and not so good of that day – we call it sacrament.
The prophet Jeremiah talks of God lighting his fire and how it burns within him:
Jer. 5:14 Therefore this is what the LORD God Almighty says:
"Because the people have spoken these words,
I will make my words in your mouth a fire
and these people the wood it consumes.
Jer. 20:9 But if I say, "I will not mention him
or speak any more in his name,"
his word is in my heart like a fire,
a fire shut up in my bones.
I am weary of holding it in;
indeed, I cannot.
A commentator on Sunday's gospel suggested that Jesus' words, "I have come to bring fire on the earth, and how I wish it were already kindled!" are words from the fire burning inside of him, Jesus, and like Jeremiah, he chose not to contain them. As he put it, "These are not the measured words of someone following a game plan. This is an impassioned outburst, the eruption of Jesus' heart that divulges what drives him." John Shea
What is the fire he came to set, the fire that was part of his mission, that drove him? Was it the fire of the Holy Spirit that we see at Pentecost, or the unquenchable fire of judgment? There are a number of fire options as we read his story.
John answered them all, "I baptize you with water. But one more powerful than I will come, the thongs of whose sandals I am not worthy to untie. He will baptize you with the Holy Spirit and with fire. His winnowing fork is in his hand to clear his threshing floor and to gather the wheat into his barn, but he will burn up the chaff with unquenchable fire." Luke 3.16-17
One more place to look for the fire of Jesus is in the hearts of the disciples on the road to Emmaus. After walking with him, talking with him, learning the scriptures from him, and breaking bread with him:
They asked each other, "Were not our hearts burning within us while he talked with us on the road and opened the Scriptures to us?" Luke 24:32
Isn't that the fire we all need to live for him, to know his love?
You know, I'm not sure I can redeem our wedding homily, though I'm pretty sure God has already done that, and we certainly could have used the rushing wind of the Holy Spirit that afternoon, though I'm certain he was present, but for the sake of this epistle, we might want to pray, "Come Lord Jesus and light my fire."
Let's pray for that together on Sunday!
Blessings and Fire for us all,
+Carl
PS Some of our martyrs might have a different take on my blessing.