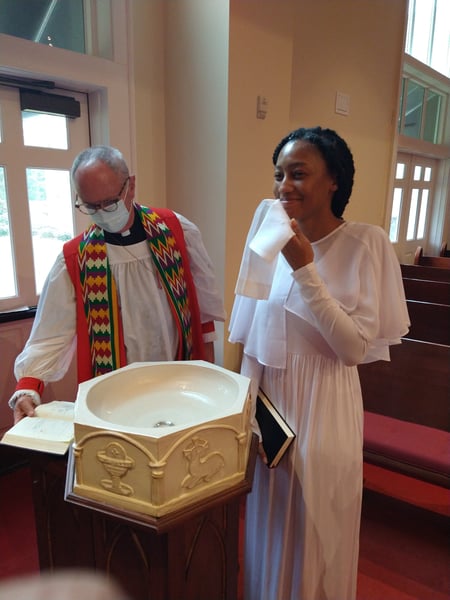 "Why did you go into the ministry?" the rector's wife asked me at dinner. My response surprised me. I mean, when asked in the past, I would say something like, "God was pushing me," or "God was working behind the scenes." In other words, I hadn't sense a 'call' or that I was being led. I had been surprised to find myself going in this direction.
It was Saturday, December 12, 2020. We concluded our retreat, had baptized Ola, and rehearsed the ordinations for the next day's service at Christ Anglican Church in Mobile, AL. And the group gathered had just toasted my 48th ordination anniversary celebration.
I saw in my mind the person who influenced me the most - Rowan Greer. He was like a big brother to me and a part of my family. He had been the curate at our parish when I became an acolyte. He had dinner with my family once a week and celebrated all the holidays with us.
When I finished college I called and asked him, "What is seminary?" "Why do you want to know?" he asked. "You aren't thinking of going, are you?" Three years later, he would be my canonical examiner before ordination.
What was it then that got me into ministry? I think it was Rowan's smile, his joy, his sense of humor. And the joy of the Lord that had been evident 48 years ago in him would be evident among us during this weekend at the retreat. How so? In God's presence is fullness of joy!
In the middle ages Jesus was tagged with a virtue called "Hilaritas" i.e. hilarity. It was a special blend of courage, freedom and joy that animated the life of our Savior. John Shea, in his book, The Challenge of Jesus, describes it as:
A reckless confidence in the love of his Abba;
The celebration of a supper with friends while knowing of betrayal and agonizing death;
The insistence of a Kingdom of another world while standing in chains before a king in this one;
To talk of paradise, acceptance, and forgiveness while nailed to the tree of hatred, hell and rejection;
It is to be passionately involved in the pain of this world, but not ruled by it;
It is to take life seriously but not ultimately.
The heart of hilaritas is Assurance, an assurance that God loves us without reason, limit or caution. Joy rises out of that assurance and that is what animated the life of Jesus!
He prayed that this same joy would be in us:
"I am coming to you now, but I say these things while I am still in the world, so that they may have the full measure of my joy within them." John 17.13
His word brings joy. "I have told you this so that my joy may be in you and that your joy may be complete." John 15.11
It says that the ambiance of heaven is marked by joy; think of the stories of finding the lost coin, sheep, and son. And that our Father rejoices over us with singing. (Zephaniah 3.17)
St. Teresa of Avila once said, "Only the saints can afford to be merry. They are so securely rooted in God's love and take Him so seriously that they naturally tend to treat everything else light heartedly. Only the person who knows God's love can live in this world with a sense of humor and lively wit."
I for one know, 48 years later, that this joy will attract people to Jesus. It did me.
And at this time of the year we have the announcement of good news of great joy! I pray that our Lord's joy may touch and fill you all in the assurance of his love so boldly proclaimed in his coming to be with us!
Note: Rowan is below on the right, holding Charlie Brown. I am on the left; between us are my mother and sister.