"What sort of follower of Jesus does God want to send into the world?"
This, ever so basic, question has been a constant companion of late.
So who comes to your mind? What distinguishes a follower of favor? How would you describe the perfect follower?
Probably not the way Teresa of Avila (1515-1582) did.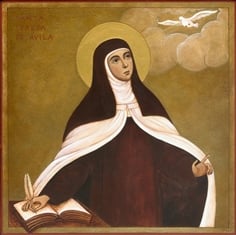 The Man Made of Roots
"The world is not yet in a fit state to bear such perfection," she wrote of him. His name is Pedro de Alcantara. He had a remarkable reputation as a spiritual director, and Teresa's love and admiration for him was boundless.
He was a man of strict asceticism, who lived in a cell less than 5 feet long, eating only once in three days; for 40 years he slept for only an hour and a half a night, his head propped up against a piece of wood fixed to the wall.
Whatever the weather, he wore nothing on his head or his feet and on his body only a habit of sackcloth, worn next to the skin as tightly as he could bear.
For 20 years he wore a shirt of tinplate.
Teresa says he was so weak that he seemed to be made of nothing but the roots of trees.
Or what about St. Augustine?
The Man Who Valued Charity
Today, May 14, the 25th day of the 50 of Easter, midway to Pentecost, as I write this, at the noon Eucharist we read a clip from a sermon by St. Augustine (354-430).
He was speaking of Jesus being the Good Shepherd and then went on to ask, "What was Peter? What was Paul? Were they not also good shepherds? Did they not also lay down their lives for the sheep? And were not the Apostles, the blessed Bishops, Martyrs also not hirelings but good shepherds?"
He concludes the section by saying, "All these then were good shepherds, not simply for that they shed their blood, but they shed it for the sheep. For not in pride, but in charity they shed it."
A Life of Giving
In charity! Loving self-sacrifice, a life of giving is usually a big part of our description of the sort of follower God wants to send. (There's a book lying on the kitchen counter, must be Barbara's, but catch the title, WHY GOOD THINGS HAPPEN TO GOOD PEOPLE, how to live a longer, healthier, happier life by the simple act of giving. It's now on my desk.
So what of my own description of the sort of follower I think God wants to send, what a follower is and does?
I think of many in ages past, saints of old.
And I think of several who have lately joined the communion of saints, whose presence I miss greatly, whose loss has changed the landscape of my faithful witnesses.
Thinking of My Son
Today, however, midway to Pentecost, the 14th of May is the day when our son AJ was born. And Barbara and I have been receiving very thoughtful and touching testimonials about how he entered people's lives as a follower of Jesus.
What a blessing balm to the pain.
What an incredible birthday gift!
So, today, I really do think of him and some of his attributes -- his smile, his readiness to help, his spunk, humor, and adventuresome spirit, his love of worship, his heart for the Lord -- as the sort of follower God sent, and wants to send, into the world.
And so I pray too, that as I remember him, some of his charisms may be evident in me.
They certainly could be mine, but today I think of Gary Haugen's (founder and president of International Justice Mission where AJ had worked) words to Barbara and me after AJ's death:
"He was such a good man."
What Sort of Follower Does God Want?
Have you experienced how God sees you as a follower?
God allows the community of faith to produce the sort of follower he wants to send into the world.
What do you think?