There's a fun movie about it, The Way, with Martin Sheen. As the story goes, his son is killed at the outset of the Camino. Martin decides to make the hike himself, dispersing his son's ashes along the way.
Along the way he meets up with the scarecrow, the tin man, and the lion. Not really. But he does make the journey with 3 fun characters - a wounded woman wanting to quit smoking, an over weight man wanting to fit into his suit for a wedding, and an author trying to break free from writer's block.
It's a wonderful, and perhaps too real, journey.
As I am reflecting on the gospel for last Sunday and this (i.e. James and John wanting the right and left of Jesus in His glory and the others being indignant...), I think of those we get to travel with on our pilgrimage.
For example -- Our small group this fall was, well it could have been a great movie, and I am certain our Lord was blessed watching and listening. It makes all the difference when others are going with you and are reaching out and touching lives around them. We encourage one another!
(Heb. 10:25 not neglecting to meet together, as is the habit of some, but encouraging one another, and all the more as you see the Day approaching.)
I can't recall being more enriched by simple testimonies
New Covenant is a doubly blessed community of faith. Not only do we have one another, but our arms reach out far beyond our walls.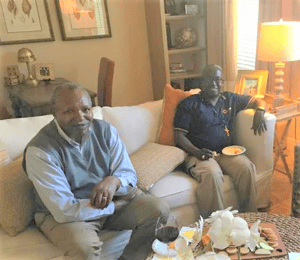 Today, Thursday October 18th, Ivan Sikha of MissionIndia is picking up Freda and Archbishop Kolini++ from Rwanda, and Bishop William+ from DRC at the airport. And tomorrow they will fly to Haiti to minister and spend 4 days with Fr. Burnet Cherisol, the Anglican Vicar of Haiti. Then they will return to spend a few days with us.